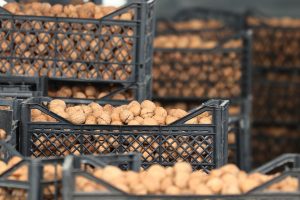 WALNUTS GEORGIA
We started WALNUTS.GE due to the shared belief in the immense potential of the Republic of Georgia's agricultural sector.  Our team consists of both international and Georgian entrepreneurs from a variety of backgrounds including agriculture, investment, law and finance.
Since 2017 we've gradually planted over 150 hectares of Chandler & Howard walnut varieties. Nowadays, we are one of the largest producers of nuts in the country.
In 2021, we began transitioning parts of the project into a biodynamic production. Since 2022, we are producing our own fertilizer under the brand LLC Ecocompost.
In the same year, we commenced with the construction of our facility for processing, harvesting and cracking nuts.
WALNUTS.GE  is an "Almond & Walnut Producer Association" member.
Our Team
David Bukhnikashvili
Hailing from a family of hazelnut producers, David first completed his medicine studies in Germany before returning to his family business. He is now responsible for the technical oversight of WALNUTS.GE's operations.
Ivo Siewert
After working as a derivatives trader for much of a decade, Ivo made the move from trading highly liquid non-deliverable assets to tree nuts. He is now in charge of WALNUTS.GE's growth strategy and sales management.